Filmographie de : Elan Gale
Actrice / Acteur :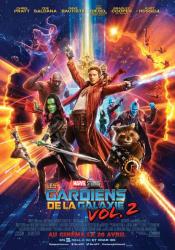 GARDIENS DE LA GALAXIE 2, LES
(Guardians of the Galaxy Vol. 2), de
James Gunn
, 2017
Musicalement accompagné de la "Awesome Mixtape n°2" (la musique qu'écoute Star-Lord dans le film), Les Gardiens de la galaxie 2 poursuit les aventures de l'équipe alors qu'elle traverse les confins du cosmos. Les gardiens doivent combattre pour rester unis alors qu'ils découvrent les mystères de la filiation de Peter Quill. Les vieux ennemis vont devenir de nouveaux alliés et des personnages bien connus des fans de comics vont venir aider...
THE HAUNTING OF HILL HOUSE 
(The Haunting of Hill House), de
Mike Flanagan
(10 episodes, 2018), 8
...