Filmographie de : David Slayter
Actrice / Acteur :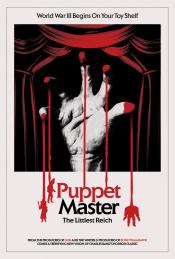 PUPPET MASTER: THE LITTLEST REICH 
(Puppet Master: The Littlest Reich), de
Sonny Laguna
,
Tommy Wiklund
, 2018
Récemment divorcé, Edgar retourne dans la maison de son enfance pour faire le point sur sa vie. Il y trouve un pantin à l'allure malfaisante ayant appartenu à son défunt frère. Cherchant à se faire rapidement de l'argent, il décide d'aller le vendre aux enchères lors d'une convention, accompagné de sa nouvelle petite-amie et d'un ami, tous inconscients du danger qui les attend. L'enfer se déchaîne une fois sur place...