Filmographie de : David Hood
Actrice / Acteur :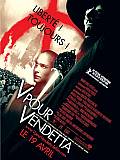 V POUR VENDETTA
(V for Vendetta), de
James McTeigue
, 2005
Londres, au 21ème siècle... Evey Hammond ne veut rien oublier de l'homme qui lui sauva la vie et lui permit de dominer ses peurs les plus lointaines. Mais il fut un temps où elle n'aspirait qu'à l'anonymat pour échapper à une police secrète omnipotente. Comme tous ses concitoyens, trop vite soumis, elle acceptait que son pays ait perdu son âme et se soit donné en masse au tyran Sutler et à ses partisans. Une nuit, alors que deux...
FOREST OF THE DAMNED
(Forest of the Damned ), de
Johannes Roberts
, 2005
Un groupe d'amis qui part pour un roadtrip s'arrête dans une forêt. Selon la légende, un groupe de femmes bisexuelles monstrueuses s'y cache. Vont-ils les réveiller ?...