Filmographie de : Aleksandra Svetlichnaya
Actrice / Acteur :
SPLIT 
, de
M Night Shyamalan
(directed by), 2016
Les fractures mentales des personnes présentant un trouble dissociatif de la personnalité ont longtemps fasciné et interrogé la science. Il se dit même que certains peuvent développer des attributs physiques spécifiques pour chacune de leurs personnalités, une sorte de prisme cognitif et physiologique à l'intérieur d'une seule et même personne. Kevin a déjà révélé au docteur Fletcher, sa psychiatre dévouée, 23...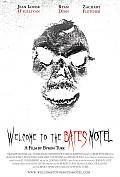 WELCOME TO THE BATES MOTEL
(The Bates Haunting ), de
Byron Turk
, 2012
...